Our Hair Coloring & Design Service Will Get the Color Results You Want
Improve the condition of your hair and be happy!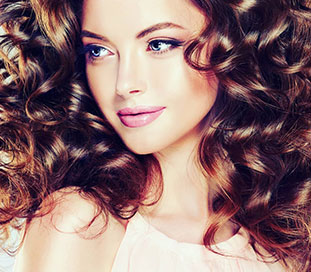 We will customize a personal formula that will enhance your natural color or makeover an entirely new look for you. We offer a wide range of services such as all over color, highlights, low-lights and dimensional color that gives luminous shine and brilliant color that does not require a high level of commitment.
Our hair coloring artists will allow you to experience a subtle change or a complete transformation.
Touch-up – Single-process color application applied to the new growth root area.
Full Color – Color is applied to the hair from the roots to the ends for color richness, continuity and blending.
Partial Highlighting
Full Highlighting – Highlights, Low-lights or a combination of the two are applied to the entire head of hair. This service offers uniform, all over hair color.
Corrections – Varies based on individual needs and severity of damage.
Hair Coloring & Design Pricing
Balayage highlights. This Technique provides the color melting effect to give the perfect natural sun kissed look. This technique is hand painted on and customized to the client's hair and desired look. Balayage starts at $200 depending on the density and length of hair and the desired look.

New Growth Base Color Balancing

$25+

Coloring Balancing Ends

$25+

Color Balancing is used after Balayage or Highlights services have been rinsed. Hair can lift at different levels at different parts of the hair and in order to make the hair have a seamless transition, we tone the hair in separate zones. This creates a perfect transition in the hair color. This is also a great option to refresh the hair and add a hint of tint and or shine.

Toners are applied at the shampoo bowl either neutralizing unwanted tones or enhancing desired tones. Toners start at $25 depending on density length and amount of product used.
Base Color for new growth starts at $80 depending on the amount of new growth, the density, length and how much color is needed to achieve the desired look.

All Over Color Refresh $40+ This permanent or semi-permanent color is applied to the mid length and ends of the hair after the new growth is colored to freshen up any color. Color Refresh starts at $40 depending on density, length and the amount of color needed for the hair and the amount of time.

Our Highlights are customized to the desired look each guest would like. Highlights start at $115 depending on the density. Length the amount of color and time needed to achieve the desired look. We are happy to give you different looks as often as you like, please always keep in mind the price starts at $115 depending on the density, length, how many colors and the amount of color needed and the amount of time to achieve the desired look.

Color Corrections are Correcting an undesirable color, tone, home color, etc. Color Correction starts at $200 depending on the density, length, the number of products needed and the amount of time to make the hair look better while keeping it as healthy as possible until we can achieve the desired look. This may require multiple sessions spaced weeks apart.
Frequently Asked Questions
Your New Hair Begins With
Booking an Appointment
Select your service and date/time you want your transformation to take place.
Come in, relax, sip a cold drink and let our salon artist transform your hair during your ultimate salon experience.
Enjoy your new found confidence and amazing compliments from your family and friends.