Looking for a Great Hair Extensions Experience?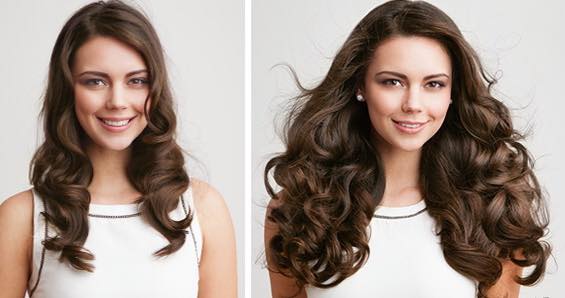 Having a great hair extension experience can be life-changing. In just a few hours you can have hair that would take years to grow. There are so many possibilities!

Hair extensions are a wonderful way to add highlights, thickness or simply make your hair longer. While they can improve your look dramatically and make your daily beauty routine quicker and easier, if they are not taken care of properly, they wont do much for you. You want to make sure you're treating them right so they will last a long time and keep making you look great. It isn't hard, just take a few extra steps and it will be worth it!
These 9 Steps Will Make Your Hair Extensions Last Longer
Come to all your appointments prepared. Make sure your hair is very clean on the initial installation appointment and on all tightening appointments. Shampoo your hair with a DEEP CLEANSING OR CLARIFYING shampoo twice and do not put conditioner on the scalp area.
For the Tape Method, you cannot shampoo your hair for 48 hours after the initial installation or tightening appointments. During this curing period it really helps to pinch the tape together a few times a day for the first 2 days. This only takes a few minutes. Try to shampoo your hair every 2-3 days. Only use sulfate free shampoo and high quality conditioners and treatment oils. We can recommend the best ones for you to use.
Always shampoo twice and make sure you rinse the shampoo out very well. Use conditioners and oils from mid shaft down. Never get them on or near the tape tabs. It is good to use a leave in conditioning spray on towel dried hair and the treatment oil before drying. Make sure your using the hair products we recommend. We constantly emphasize the importance of proper maintenance. These products will extend the life of the hair extensions so you go longer without buying new hair and make sure they always look nice.
In between shampoos use a quality dry shampoo to remove any excess oil and buildup at the extension base. We can recommend the best one for you. Use the treatment oil for the mid-shaft to ends for dry or frizzy areas and to keep the hair healthy and shiny over time.
When using hot tools be sure to use a heat protectant spray. Our favorite is the enjoy protect and shine. Do not use heat tools directly on the tape tabs.
Approximately every 6-12 weeks, depending on each individual hair growth, texture and preference, the extensions need to be tightened to move the bonds closer to the scalp and keep the hair healthy. Mattes and tangles can occur from not brushing and not tightening at the appropriate time. Matting can be completely preventable.
First, it is important to understand why matting happens. Hair strands shed naturally (around 50-100 strands per day, but when your hair is in hair extensions, the shed hair is trapped there until you get them tightened. When the bonds are released then all of the shed hair is released. This is normal and should not be interpreted as hair loss due to wearing hair extensions.

Its these shed hairs that are the trouble makers. When you don't brush, go to bed with wet hair or go too long between tightening the matting can happen. Never go to bed with wet hair. Either put hair in 1 or 2 braids on the side. Also, a satin or silk pillowcase is great to sleep on.
You'll only want to use the wet brush nothing else. Ordinary brushes will pull on the bonds. You should brush your hair before you shampooing and at least one other time during the day. Make sure to be gentle, starting from the ends and working up, always holding the roots with your other hand. Gentle is the key!
Take 10,000 mcg of biotin twice a day, a good hair vitamin or keratin vitamins are great too. Drink plenty of water. These steps are important to keep your natural hair strong and healthy.
When swimming or going to the beach, always wash hair after. You can also wet hair and put a good leave-in conditioner in before to keep salt and chlorine from penetrating hair shaft.
You can pull your hair back in a medium to low pony but always remember if you feel tension, loosen the area.
Your hair is gorgeous and so are you! So take care of your hair and you will have a long time of beautiful hair before you have to replace it.