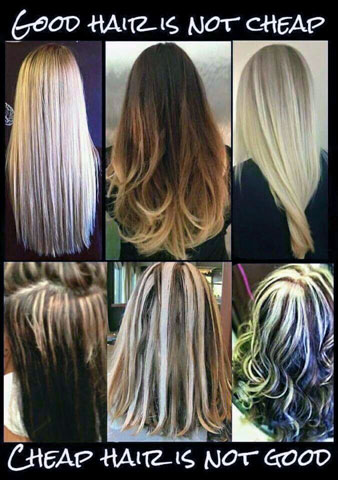 What are hair extensions?
Adding additional hair with either high quality virgin Remy, lower quality virgin Remy, non Remy or synthetic (high and low quality) to a persons own natural hair to create length and/or volume.
It can be done using several different methods:
Strand by strand keratin or bonded
Braided
Sewn in
Micro-link or beaded strand by strand or weft
Clip in
Top piece
Tape in or seamless
Hand tied weft extensions


Natural hair extensions should always be attached by a Licensed Professional or a Certified Hair Extensionist, except for the clip in which are made to do yourself.
When Choosing Hair Extensions The Quality Matters
First, lets talk quality:
Human hair extensions come in several different qualities. Choosing hair extensions and a stylist that will fit your lifestyle and budget can become mind boggling. Virgin Remy hair is the finest quality used in making hair extensions. The problem is that you'll see a lot of extensions on the market that claim to be virgin Remy. It is important to do your homework and go to a trusted experienced stylist. Always check reviews.
True Remy virgin human hair extensions are from one donors cut off ponytail or shaved head. This way all of the hairs are aligned in their natural growth pattern and the cuticle is left intact. The best hair comes from Asian and European countries. The hair is carefully chosen and all the purchased hair is divided into nine grades in accordance with very strict standards. Yes that's right, nine grades of virgin Remy hair.
We are very adamant that we only use the very best, nothing less. The hair then goes through a rigorous process of hand selecting and hand sorting. The hair then begins a very slow gentle color process that can take from 4 to 6 weeks to ensure the hair stays in the virgin state.
This ensures the cuticle stays smooth and the hair structure isn't damaged. There is strict quality inspection in each step. From the hackling hair to the finished product. Each of these hairs is examined for small flaws and damages of the cuticle. The highest quality level 9 virgin Remy hair is hand selected with demanding precision (only 1-2% of the raw hair meets the criteria). The end result 100% is the highest quality virgin Remy, brilliant, tangle free, healthy hair that makes your own hair look better, feel better and behave better. If properly cared for this hair can last between 1 – 3 years.
The cost of virgin Remy hair varies quite a bit depending on the origin and level or grade of the hair. The saying is true, you usually do get what you pay for based on the quality of the hair. The higher grades or levels of virgin Remy hair are generally not available for commercial retail sales.
Lower grade or levels of Remy hair or non Remy commercial hair is the hair you will find readily available because of its economical pricing. This hair is sold in your local beauty supply store, eBay, amazon and many websites. The hair will look and feel beautiful when you first get it, similar to the high quality virgin Remy hair, however that will only last for a short while. Unlike high quality virgin Remy human hair, lower grade Remy hair is coated with a silicone coating and when shampooed becomes dull, less manageable, more tangled, matted and can cause hair loss. It will last approximately 3 months.
The non Remy hair will look and feel beautiful when you first get it similar to the lower grade or levels of Remy hair, but the look is very short lived. unlike Remy virgin human hair, non Remy human hair is collected from many donors. Due to this reason the hairs can no longer be aligned in their natural growth pattern. Since the hairs are going in all different directions and with the first shampoo the silicone coating will wash off , you'll then be left with raw over processed hair that will feel dry, brittle and unmanageable.
It will tangle and matte terribly and can cause hair loss. You will become frustrated and have to get the extensions removed. If you are looking to wear them for very short term, a party, holiday, event, or act then non Remy is a option for everyone's budget but be very careful.
Hair Extension Installation Methods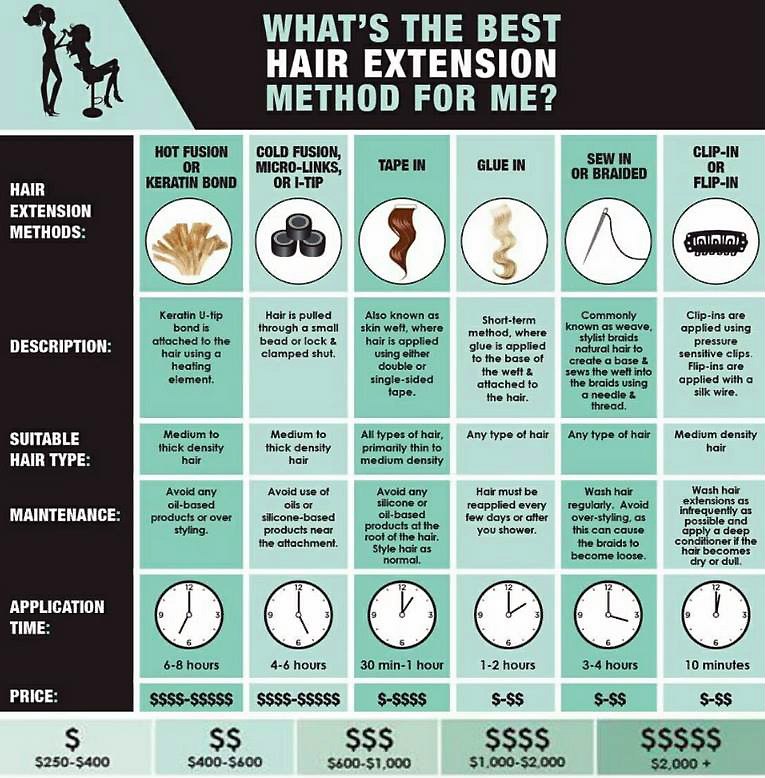 Now lets talk about the different methods of installing the hair extensions:
Strand by strand keratin or bonded. This is small strands of hairs bonded together at the tip with glue or keratin. The stylist takes the same amount of clients own hair and with a heating tool bonds the extension in the hair. This method takes 3 to 6 hours. It can be uncomfortable especially the first week. The extensions last approximately 3 to 4 month depending on clients natural hair and proper maintenance. They are removed and then start over with new extensions. This is one of the more expensive methods.
Braided or sewn. This is a weft of hair either machine made or hand tied. The hand tied are less bulky. The wefts are approximately 9-10 inches wide. The stylist does a very tight braid or uses links or beads and then sews the weave into the clients hair. These are not suitable for all hair. These can be uncomfortable if not properly installed. They can last 6 to 12 weeks.
Micro-link or beaded. This can be done strand by strand or with a weft. The stylist takes equal amount of clients natural hair and individual strand of extension and pulls though a silicone lined bead and clamps the bead down. If stylist uses a weft, the bead is placed side by side along the length of the weft. Equal amounts of the clients natural hair and the extension are pulled through the bead and clamped down. This method takes 2-4 hours. It can be uncomfortable especially the first week. The extensions last approximately 4-8 weeks depending on clients natural hair and proper maintenance.
Clip in. This is a quick way to have a new look without any permanent attachment. They are great for short term wear. They clip in to place and clip out the same.
Integration or Replacement Systems. These are for clients who are thinning on the top of their head and don't have enough hair to cover extensions. The integration or replacement adds thickness and volume to the top of the head to help camouflage thinning. They can be attached with keratin bond, micro-bead, tape or clips. All methods but the clips take 1-3 hours. They can be a little uncomfortable in the first week. They will need to be re-tightened approximately every 6-12 weeks depending on clients natural hair and proper maintenance.
Tape in or seamless. This method has become extremely popular and is my personal favorite. The stylist puts the clients hair between 2 1.5 inch polyurethane based hair extensions with medical grade surgical tape. This method takes 1-2 hours. The hair cannot be washed for 48 hours after installation. It isn't uncomfortable and lays flat to the head. They need to be tighten approximately 6-12 weeks depending on clients natural hair and proper maintenance. They hair lasts for 1-3 years depending on proper maintenance.
Hairdreams Nano Hair Extensions. This method is a mix between the strand by strand and the tape in or seamless. The stylist uses the Laserbeamer NANO and attaches five individual strands of hair with a crystal polymer base or bonding material. They lay flat to the head without the noodly effect that you can get from the strand by strand method. They can last 3 to 6 months depending on the clients hair and proper maintenance.
Hand tied weft extensions. Our hand tied weft extensions are the highest quality, 100% pure human Remy hair. Hand tied wefts are sewn together by hand, making the weft portion of the hair much thinner than machine tied wefts. When adhered to the natural hair, hand tied wefts lay flat against your scalp to provide natural look. Hand tied extensions are exactly what they sound like. Skw, ibr, nbr and habit extension methods are a safer method to install hand tied weft extensions without glue.
Spoiler alert: You cannot buy 120 grams (4.2 ounces) of Remy human hair with the cuticle intact for less than $300 in 2019. Most hair, which costs between $150-250, is put through a silicone bath to simulate a cuticle, and tangles and mattes after a month. We have scoured the earth to find a brand we believe in. Once you do find a brand you know is high quality they will cost more than other methods to install.
If 100 grams (3.5 ounces) cost around $300 for traditional beaded wefts, expect to pay $400 or more for hand tied. Hand tied are more time consuming to manufacture. Each binding of hair is handmade. Some brands report it takes days to make a single pack of hair.
We hope this article that outlines choosing hair extensions, as well as, the installation methods will help you make a more educated decision when deciding to get your extensions put in.